Research article
Open Access
Long-acting κ opioid antagonists nor-BNI, GNTI and JDTic: pharmacokinetics in mice and lipophilicity
Received: 2 March 2012
Accepted: 29 May 2012
Published: 29 May 2012
Abstract
Background
Nor-BNI, GNTI and JDTic induce κ opioid antagonism that is delayed by hours and can persist for months. Other effects are transient. It has been proposed that these drugs may be slowly absorbed or distributed, and may dissolve in cell membranes, thus slowing elimination and prolonging their effects. Recent evidence suggests, instead, that they induce prolonged desensitization of the κ opioid receptor.
Methods
To evaluate these hypotheses, we measured relevant physicochemical properties of nor-BNI, GNTI and JDTic, and the timecourse of brain and plasma concentrations in mice after intraperitoneal administration (using LC-MS-MS).
Results
In each case, plasma levels were maximal within 30 min and declined by >80% within four hours, correlating well with previously reported transient effects. A strong negative correlation was observed between plasma levels and the delayed, prolonged timecourse of κ antagonism. Brain levels of nor-BNI and JDTic peaked within 30 min, but while nor-BNI was largely eliminated within hours, JDTic declined gradually over a week. Brain uptake of GNTI was too low to measure accurately, and higher doses proved lethal. None of the drugs were highly lipophilic, showing high water solubility (> 45 mM) and low distribution into octanol (log D7.4 < 2). Brain homogenate binding was within the range of many shorter-acting drugs (>7% unbound). JDTic showed P-gp-mediated efflux; nor- BNI and GNTI did not, but their low unbound brain uptake suggests efflux by another mechanism.
Conclusions
The negative plasma concentration-effect relationship we observed is difficult to reconcile with simple competitive antagonism, but is consistent with desensitization. The very slow elimination of JDTic from brain is surprising given that it undergoes active efflux, has modest affinity for homogenate, and has a shorter duration of action than nor-BNI under these conditions. We propose that this persistence may result from entrapment in cellular compartments such as lysosomes.
Keywords
NorbinaltorphimineNor-BNI5'-guanidinonaltrindole5'-GNTIJDTicPharmacokineticsLipophilicityP-gpJNK1MAPK8
Background
A growing body of preclinical evidence suggests that selective κ (kappa) opioid antagonists may have therapeutic potential against conditions such as depression and anxiety disorders [1]. However, the drugs used in this research exhibit an extraordinarily long duration of action, which has complicated experimental design and interpretation. The effects of non-selective opioid antagonists typically persist for only a few hours in vivo; durations of several days are considered extremely long. In striking contrast, the effects of selective κ opioid antagonists can persist for weeks or months [2, 3]. A less-noted peculiarity of their timecourse is extremely delayed onset; maximal antagonism can be delayed by hours or days even after central administration, compared to minutes for nonselective antagonists [3]. Recently, short-acting κ opioid antagonists have been reported, which appear in preliminary experiments to exert similar effects on stress-related behaviors [4, 5]. However, it is as yet unclear whether the abnormal timecourse of the earlier agents is a desirable feature or a liability for clinical development [1]. Additionally, a consensus has not yet been established on the mechanism of this extremely unusual timecourse.
The first reported highly selective κ opioid antagonist was norbinaltorphimine (nor-BNI, Figure
1
), a dimeric naltrexone derivative [
6
]. The compound has become a standard tool in opioid pharmacology, thoroughly characterized in a large body of research. In vitro, nor-BNI reliably produces surmountable antagonism of κ opioids, with high potency and selectivity over μ (mu) and δ (delta) opioid receptors [
2
]. Of the many other selective κ opioid antagonists which have been developed since [
2
,
7
], two have been the subject of considerable in vivo study: 5'-guanidinonaltrindole (GNTI) [
8
] and JDTic [
9
], both shown in Figure
1
. In vitro, these compounds also produce surmountable antagonism of κ opioids, with sub-nanomolar potency and high selectivity over μ and δ [
2
].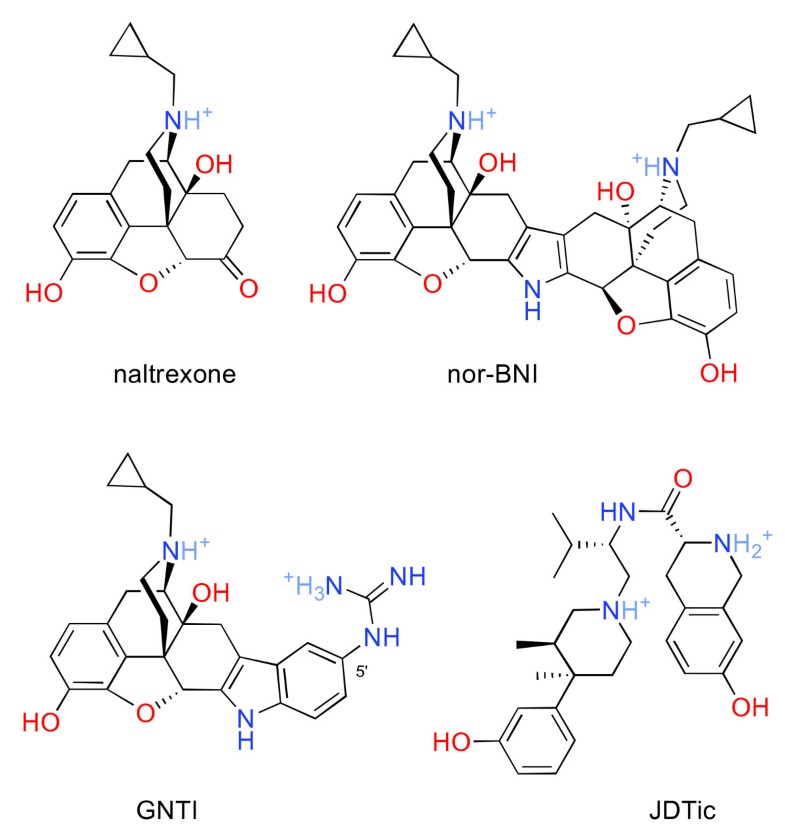 Results
Plasma and brain timecourses
Plasma and brain levels of nor-BNI are shown in Figure
2
; raw data for figures and tables can be found in Additional file
1
. Mean plasma nor-BNI was maximal at 30 minutes, then declined significantly within 1 hour (56%,
p
 = 0.04). The decline was almost complete within 2 hours (92%). After this, there was a reduction in the elimination rate (see Figure
2
B), with an eventual decline of 99% by 24 hours.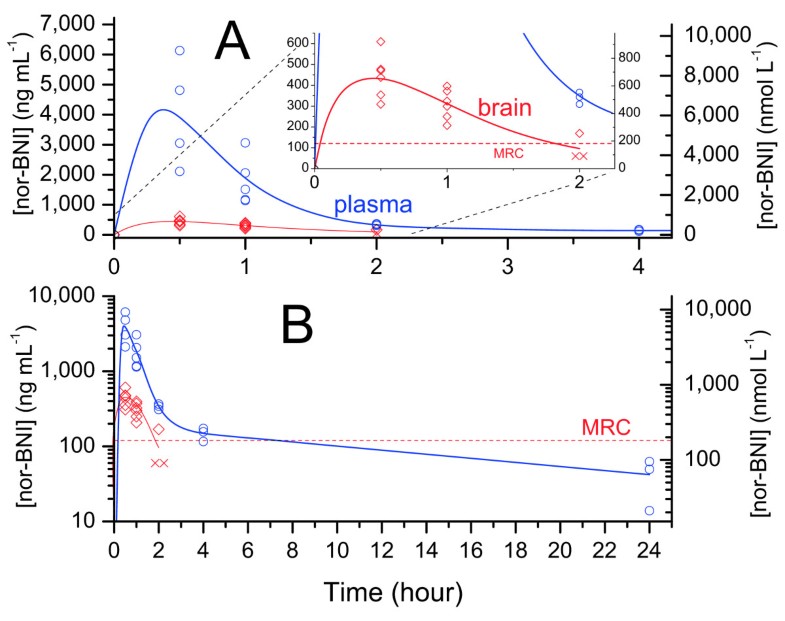 Brain uptake of nor-BNI was very low. Standard LC-MS-MS conditions gave lower sensitivity in brain than for a wide range of drugs tested previously [24]. As a result, we obtained accurate brain levels for nor-BNI only up to 1 hour. Nonetheless, no lag was apparent, indicating rapid equilibration between blood and brain. Mean brain nor-BNI was maximal at 30 minutes, and declined significantly within 1 hour (31%, p = 0.03). By 2 hours, 2 of 3 samples were below the Minimum Reportable Concentration (MRC) for our assay (120 ng mL-1). This permits only an estimate of the initial elimination rate, which is often much higher than the terminal elimination rate. Thus, our data do not establish the terminal elimination rate in brain.
Absorption and elimination of GNTI were somewhat slower (Figure
3
). Again however, mean plasma levels were maximal at 30 minutes, and declined by 95% within 4 hours (
p
 = 0.01). Viewed on a log scale there was again a marked decline in the elimination rate after 4 hours (Figure
3
B). Brain uptake was extremely low. Levels were below MRC (120 ng mL
-1
) at all timepoints, and thus could not be accurately quantified, so the timecourse in brain could not be determined.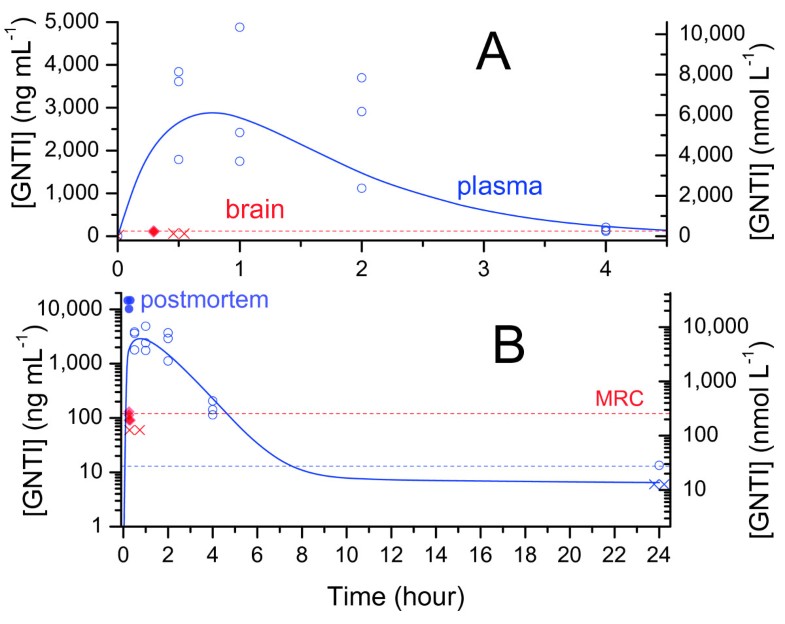 As with nor-BNI and GNTI, JDTic was rapidly absorbed, reaching peak plasma and brain levels within approximately 30 minutes (Figure
4
). Mean plasma concentration declined by 37% within 1 hour (
p
 = 0.04), and 77% within 2 hours (
p
 = 0.003). Brain levels were markedly lower than plasma, but the drug was very persistent: mean brain JDTic declined by only 56% over 24 hours, and the drug was still detectable at 1 week (Figure
4
B). The terminal half-life of approximately 9 days was comparable to the previously reported rate of decline in antagonism [
18
].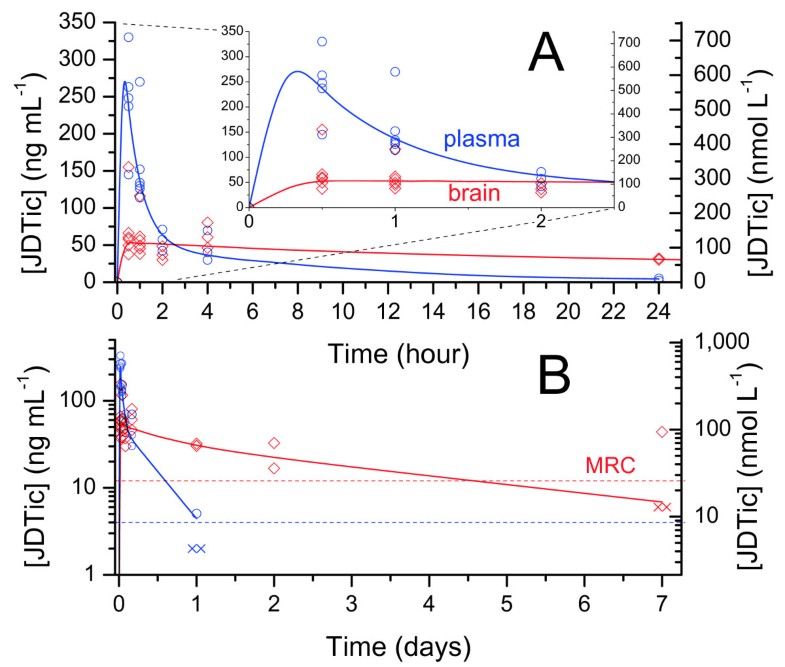 The possibility remains that nor-BNI also persists at lower levels, below our MRC. There have been preliminary reports of the detection of nor-BNI in mouse brain up to 21 days after administration, but details have not yet been reported [25, 26]. Nonetheless, our results indicate that the initial elimination rate from brain for nor-BNI is much higher than for JDTic, with brain levels declining by at least 75% within 4 hours. Our results do not permit conclusions about the brain timecourse of GNTI.
Physicochemical properties
We found that nor-BNI, as the standard salt (dihydrochloride hydrate), showed poor wettability and dissolved slowly. This property may have contributed to the perception that the drug is hydrophobic. In fact, however, solubility was very high: greater than 45 mM for nor-BNI and JDTic, and at least 100 mM for GNTI (Table
1
). These values are comparable to the short-acting antagonist naltrexone. By contrast, some lipophilic drugs such as steroids have solubilities below 1 μM, at least 10
5
-fold lower than GNTI [
27
]. Notably, all of the κ antagonists crystallize as hydrates, whereas most drug salts crystallize as anhydrates [
28
]. Thus, as measured by both solubility and degree of hydration, the κ antagonists are unusually hydrophilic.
Table 1
Physicochemical properties and plasma and brain homogenate binding of nor-BNI, GNTI, JDTic, and naltrexone
| | Nor-BNI | GNTI | JDTic | Naltrexone |
| --- | --- | --- | --- | --- |
| Salt tested | 2HCl·H2O | 2HCl·1.5H2O | 2HCl·H2O | HCl·2H2O |
| Water solubility (mmol L-1, 25 °C) | >45 | >100a | >45 | >100a |
| | | mean | | |
| | | (95% CI) | | |
| Log10D7.4 | 1.5 | -0.1 | 1.8 | 0.86 |
| octanol:buffer (pH 7.4) | (1.3; 1.8) | (-0.2; 0) | (1.7; 2.0) | (0.82; 0.90) |
| Fraction unbound (%) | | | | |
| Plasma | 51 | 28 | 19 | 83 |
| | (44; 59) | (24; 31) | (17; 21) | (72; 94) |
| Brain homogenate | 12 | 7 | 7 | 47 |
| | (10; 17) | (6; 9) | (6; 8) | (34; 65) |
The octanol/water distribution coefficient at physiological pH (log D7.4), a standard measure of lipophilicity for ionizable compounds, provides further evidence that these drugs are not unusually hydrophobic (Table 1). While more hydrophobic than naltrexone, nor-BNI and JDTic nonetheless fell within the moderate log D7.4 range of 1–3, which is optimal for a wide range of pharmacological properties [29]. To put this in context, the short-acting cannabinoid THC has a reported log D7.4 value of 7 (105–fold more lipophilic than JDTic) [30]. Interestingly, GNTI proved to be very hydrophilic, with a log D7.4 approximately equal to morphine [31]. Thus, none of the κ antagonists possessed exceptionally high or low lipophilicity, and they differ more from each other by these measures than from naltrexone.
Brain homogenate and plasma binding
We measured drug binding to plasma proteins and brain homogenate, since it is the concentration of unbound drug in solution, rather than total concentration, which governs pharmacological response [32]; also, affinity for brain homogenate provides an experimental test of the membrane depot hypothesis. Each κ antagonist showed greater binding to brain homogenate than did naltrexone, with unbound fractions below 12% (Table 1). However, these values are not exceptional: some CNS-active drugs exhibit unbound fractions below 0.1% in brain homogenate [33].
Recent work indicates that homogenate binding systematically underestimates binding to intact tissue by approximately 3-fold for basic drugs [34]. For theoretical reasons discussed below, the underestimate is expected to be substantially greater for dibasic compounds like the long-acting κ antagonists (Figure 1) [34]. However, since validated results for a set of dibasic drugs are not available, in the calculations that follow we have conservatively assumed in vivo brain binding at least 3-fold greater than the homogenate value.
Brain uptake
A common measure of brain uptake is K p,brain , or drug exposure in brain relative to plasma. However, K p,brain values do not accurately predict drug concentrations at the effect site, since they are confounded by tissue and plasma binding [34]. After correction for binding, the relative unbound brain/plasma exposure (K p,uu,brain ) gives a much more accurate guide to drug levels in interstitial fluid, as validated against microdialysis [34].
Nor-BNI's unbound brain/plasma exposure (
K
p,uu,brain
) was extraordinarily low, less than 0.007 (see Table
2
). This is comparable to the peripherally-restricted opioid loperamide [
35
]. While surprising for a centrally-active drug, this value is consistent with the discrepancy between the extremely high potency nor-BNI exhibits in vitro [
2
] and its low potency in vivo.
Table 2
Pharmacokinetic parameters of nor-BNI, GNTI and JDTic (·2HCl salts, 10 mg kg -1  i.p.), estimated using non-compartmental analysis
Nor-BNI

GNTI

JDTic

t max

h

0.5

0.5

0.5

C max,p

ng mL-1

4,025

3,080

245

C max,brain

ng mL-1

443

< 120

71

C max,brain,u

nmol L-1

< 26

< 6

< 4

AUC 0–∞,p

ng h mL-1

6,422

9,486

888

AUC 0–∞,brain

ng h mL-1

593

-

10,304

V z /F

L kg-1

19

4.4

83

CL/F

L kg-1 h-1

1.7

1.0

1.1

AUC0 –∞,brain /AUC0 –∞,p

K p,brain

0.09

–

11.6

AUC 0–∞,brain,u /AUC 0–∞,p,u

K p,uu,brain

< 0.007

–

< 1.4

C max,brain /C max,p

0.11

0.0085a

0.29

C max,brain,u /C max,p,u

< 0.009

< 0.0007a

< 0.04
Unbound brain exposure for JDTic was much greater than for nor-BNI, up to a possible upper bound of 1.4 (Table 2). This was puzzling given the low peak brain level of JDTic. As an alternate measure, we calculated unbound brain uptake using peak brain and plasma levels. By this measure, unbound uptake of JDTic was very low, < 0.04, in marked contrast to the exposure measure. For nor-BNI, the two methods gave concordant results. Calculations based on exposure may be misleading for JDTic due to the extraordinarily large difference in elimination rates between brain and plasma. Comparison of drug concentrations in brain and plasma clearly establishes low unbound uptake for this drug. Further evidence on this question can be found in the results of our active transport experiments below.
Brain exposure could not be quantified for GNTI at 10 mg kg-1. In an attempt to obtain quantifiable brain levels we administered higher doses, which unexpectedly proved lethal, as described in the next section. At 10–18 minutes after GNTI bis-trifluoroacetate (39 mg kg-1), postmortem brain and plasma samples revealed a very high mean plasma concentration of 13,200 ng mL-1, but a mean brain level (112 ng mL-1) still just below the MRC (120 ng mL-1). It should be noted that the low brain levels at this early timepoint may reflect incomplete equilibration. Nonetheless, GNTI clearly exhibited extremely low brain uptake in all of these experiments.
Even these very low uptake values represent conservative upper bounds, and the true values are likely to be lower still. We have chosen a minimal value for the underestimate of tissue binding using homogenate, as noted above, and the true binding is likely to be greater. Also, we have not corrected for residual plasma in brain. The brain is estimated to contain approximately 1–3% blood by volume, which can make a substantial contribution to total brain drug content for drugs with low uptake [
32
]. However, correction for this is complex, and to our knowledge the required parameters have not yet been established in mice. This correction would further reduce the estimated brain uptake. Consistent with this, note that we estimate peak unbound brain levels at 30 minutes of up to 4 nM for JDTic and 26 nM for nor-BNI (Table
2
). Given that the binding affinities and potencies of these drugs in vitro are consistently sub-nanomolar [
2
], these concentrations would be expected to produce near-maximal receptor occupancy, and marked increases in the ED
50
of κ opioids. As noted above, however, negligible κ antagonism is observed at 30 minutes (Figure
5
). This suggests that the true unbound brain concentrations are considerably lower.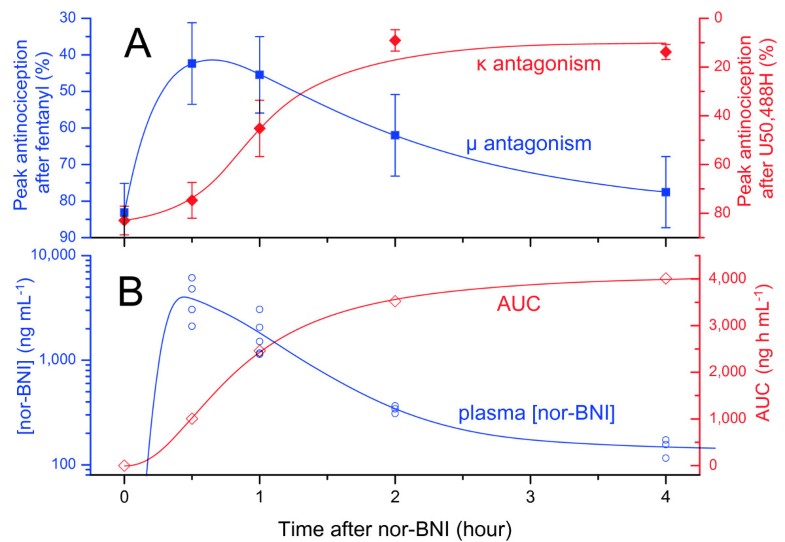 In summary, our evidence suggests that all three long-acting κ antagonists exhibit extremely low brain uptake relative to other centrally-active drugs, but accurate quantification will require further research.
Fatalities after GNTI
After 30 mg kg-1 GNTI dihydrochloride, all three mice unexpectedly became ataxic, followed by convulsions and death within 11 minutes of injection. To confirm that this was not due to an impurity, the experiment was repeated with an equimolar dose of a different salt from a different supplier (bis-trifluoroacetate, 39 mg kg-1). Again, all three mice died within 18 minutes. At 10 mg kg-1, GNTI caused no fatalities in 15 mice monitored for at least 30 minutes. This difference was of extremely high statistical significance (p < 0.0001 by Fisher's Exact test, two tailed). Even at 100 mg kg-1, no fatalities occurred after nor-BNI (3 mice, p = 0.01 vs. GNTI) or JDTic (6 mice, p = 0.002). Only mild behavioral effects, such as hiccup-like spasms and shivering, were observed. The lower toxicity of these two drugs, despite their comparable potency as κ antagonists, suggests that GNTI's toxicity may involve some form of efficacy or a different target.
Apparent volume of distribution
In addition to the direct tests of binding to plasma and brain homogenate, our results yield an indirect measure of tissue affinity. It is notable that at the same dose, JDTic gave maximal plasma concentrations less than 10% of those seen after nor-BNI and GNTI (Table 2). This might reflect lower absorption into plasma, higher affinity for tissue relative to plasma, or both. This property can be quantified using the volume of distribution (V).
Based on the above timecourse and binding data, pharmacokinetic parameters were calculated using non-compartmental analysis (Table 2). Apparent terminal-phase volumes of distribution (V z /F) for GNTI (4.4 L kg-1) and nor-BNI (19 L kg-1) were unremarkable in comparison to the values of V for a wide range of other drugs determined previously in rats (0.1 – 73 L kg-1) [24]. The volumes of distribution for GNTI and nor-BNI therefore appear to be low or moderate relative to other CNS-targeted drugs, suggesting moderate tissue affinity relative to plasma. This is consistent with the brain homogenate binding we observed.
However, the apparent volume of distribution for JDTic was extremely high (83 L kg-1). While this might be due to low bioavailability (F), it is also consistent with a very high value for V – that is, very high affinity for tissue relative to plasma. JDTic's negligible rate of elimination from brain, but not plasma, provides strong confirmation of high tissue affinity. This is in marked contrast to the compound's moderate affinity for brain homogenate. Given that membranes do not represent a plausible basis for this affinity, we propose an alternative in the discussion section.
Membrane permeation and efflux
The membrane permeabilities of these drugs were evaluated using monolayers of cells expressing human P-gp. All three of the long-acting antagonists showed extremely low passive permeability, up to 150-fold lower than naltrexone, as measured by apical to basolateral flow rates (Table
3
). No active transport of nor-BNI or GNTI was detectable, but JDTic showed a very high efflux ratio. Consistent with previous reports [
36
], the known P-gp substrate loperamide also showed high efflux, but naltrexone did not. These results suggest that JDTic is a P-gp substrate, but that nor-BNI and GNTI are not.
Table 3
Mean permeation rates and efflux ratios in LLC-PK1-MDR1 cell monolayers
Nor-BNI

GNTI

JDTic

Naltrexone

Loperamide

Papp

(A → B)

nm s-1

2

4

5

310

12

Papp

(B → A)

nm s-1

3

6

240

410

470

Efflux ratio (B → A/A → B)

1.5

1.5

48

1.3

38
Conclusions
Contrary to previous speculations, nor-BNI, GNTI and JDTic were rapidly absorbed and eliminated from plasma after intraperitoneal administration. This timecourse is in striking contrast to the slow onset and ultra-long duration of the κ antagonism they produce, but coincides well with transient side-effects. Thus, the transient effects are positively correlated with plasma concentration, consistent with a competitive mechanism of action. By contrast, κ antagonism is negatively correlated with plasma concentrations, but positively correlated with exposure. Both of these correlations are more consistent with an irreversible mechanism of action such as JNK1-mediated desensitization.
Our results indicate that JDTic is a P-gp substrate, but that nor-BNI and GNTI are not. However, the extremely low brain uptake of these drugs suggests that they may be substrates of another transporter. Our findings that these drugs are relatively hydrophilic by several measures suggest that they will not form a membrane depot. Their modest affinities for brain homogenate also argue against other forms of nonspecific tissue binding. JDTic's extremely slow elimination from brain, despite low affinity for homogenate and active efflux, suggests intracellular trapping. We propose lysosomes as a plausible site for this entrapment, but no direct evidence is yet available. JDTic's persistence in brain may contribute to its long duration of action, but this cannot account for its ultra-slow onset, nor for the even longer duration of action exhibited by nor-BNI.
Materials and methods
Animals
Male Swiss-Webster mice (22–24 g, Crl:CFW(SW), Charles River. Laboratories, Wilmington MA, USA) were housed under a 12 h light/dark cycle in clear polycarbonate boxes (three per box) with pine chip bedding, nesting pads, and unrestricted food and water. Experiments were performed between 10 am and 6 pm. Mice were not used in other experiments, or exposed to other drugs, before testing began. This study followed the recommendations of the Institute for Laboratory Animal Research [60], and has been reported according to the ARRIVE guidelines [61]. The protocol was approved by McLean Hospital Institutional Animal Care and Use Committee (protocol 09-5/2-16)
Drugs
GNTI∙2HCl∙1.5H2O: Tocris Bioscience, Ellisville MI (batches 4B/91591 and 4B/94133, >99.4% purity). GNTI∙2CF3CO2H∙2.6H2O: Sigma-Aldrich, St Louis MI (lot 096 K4605, 97.6% purity). JDTic∙2HCl∙H2O: F. Ivy Carroll, Research Triangle Institute, NC. Naltrexone∙HCl∙2H2O: Tocris Bioscience (batch 5B/93329). Nor-BNI∙2HCl∙H2O: Tocris Bioscience (batches 8A/90732 and 9A/93084). Vincristine: Sigma-Aldrich, St Louis MI.
Other materials
Medium 199 and heat-inactivated fetal bovine serum (FBS): Invitrogen (Carlsbad, CA). Non-collagen-coated transwell plates (0.4 μm pore size, 0.7 cm2 surface area): Millipore Corporation (Billerica, MA). Bovine serum albumin (BSA), ethylenediaminetetraacetic acid (EDTA), 1-octanol and phosphate-buffered saline (PBS, pH 7.4): Sigma-Aldrich, St Louis MI.
Drug administration
Doses are reported by weight of the specified salt. Intraperitoneal injections were administered in distilled water vehicle (10 mL kg-1). Body mass was measured to ±0.1 g. Some values were inadvertently measured on a low-precision balance (± 2.5 g); these timepoints were replicated at ±0.1 g. Comparison of results from these replicates revealed no statistically significant difference, so all results were pooled for analysis.
Sample preparation
Mice were sacrificed by cervical dislocation, then decapitated for collection of brain and blood samples. Trunk blood was collected in 1.5 mL polypropylene micro-centrifuge tubes, shaken with a few crystals of EDTA and cooled in ice-water. Samples were centrifuged at 14,000 rpm (revolutions per minute) for 15 minutes at 3 °C, then stored in glass sample vials at −20 °C until analysis. Brains were removed and immersed for 30 seconds in 2-methylbutane over dry ice, then stored in polypropylene tubes at −20 °C until sample preparation. Sample tubes were thawed in ice-water, distilled water was added (2:1 by weight) and the brain homogenized with a probe sonicator for 3 minutes over ice-water (Fisher Sonic Dismembrator 300 at 35% power). The probe was rinsed with ethanol and distilled water between samples. Brain homogenate was stored in glass sample vials at −20 °C until analysis by LC-MS-MS.
LLC-PK1-MDR1 cell permeation and efflux
Pig kidney epithelial cells (LLC-PK1) were obtained from American Type Culture Collection (Manassas, VA). Transfection with human MDR1 gene was conducted at Amgen (Thousand Oaks, CA). Bi-directional permeation assays were performed as described previously [62]. Briefly, cells were grown in Medium 199 supplemented with 10% FBS in the presence of vincristine (640 nM). Cells were seeded onto Transwell filter membranes (0.4 μm pore size, surface area = 0.7 cm2) at a density of 200,000 cells/well. Compound incubations (in duplicate) were performed 5 days post-seeding. To determine efflux, compounds were tested at 5 μM in the presence of 0.1% BSA. Transport studies were conducted at 37 °C in a humidified incubator with shaking (70 rpm) for 120 min. Samples were analyzed by LC-MS-MS.
Octanol-buffer distribution
Phosphate-buffered saline (PBS, pH 7.4) and 1-octanol were mutually saturated by vigorous stirring at room temperature for 18 h, and then separated. Drug solutions of 0.1 mg mL-1 in PBS were prepared, and 500 μL aliquots were added to 1.5 mL micro-centrifuge tubes with an equal volume of 1-octanol. Three samples were vortex-mixed for 1, 10 and 30 minutes respectively, then centrifuged at room temperature (12,000 rpm for 15 minutes). Aliquots of the upper octanol layer were removed by pipette. A disposable syringe was inserted while bubbling air through the upper layer, an aliquot of the lower PBS layer withdrawn, and the needle removed before transferring. Samples were stored in glass sample vials at −20 °C until analysis by LC-MS-MS. Since no trend was evident with mixing time, results from the different mixing times were pooled.
Water solubility
Distilled water was added slowly by microsyringe to 10–15 mg of drug in a glass vial, swirling until no solid was visible.
Determination of drug concentrations
Drug concentrations (ng mL-1) refer to the free base, and were measured by liquid chromatography-tandem mass spectrometry (LC-MS-MS) as described previously [24]. Briefly, samples were shaken with 3 volumes of methanol and centrifuged at 3000 g. Aliquots of the supernatants were diluted with 5 volumes of water containing an appropriate internal standard. Extracts from in vitro and in vivo experiments were analyzed by multiple reaction monitoring on an API3000 or API4000 LC-MS-MS system with electrospray ion source, controlled and analyzed using the Analyst software package (Applied Biosystems, Foster City, CA). Chromatography was conducted on a Sprite Armor C18 analytical column (20 × 2.1 mm, 10 μm particle size, Analytical Sales and Products, Pompton Plains, NJ) with a 0.5 μm PEEK guard filter. Compounds were eluted with a gradient from 2% to 95% acetonitrile in water, both containing 0.1% formic acid. Compounds were detected in positive ion mode, tuned to the mass transition with the largest intensity. Analyte concentrations were determined by comparison of analyte:internal standard peak area ratios to those of standards prepared in the appropriate matrices.
Brain homogenate and plasma binding
Unbound fractions in brain homogenate and plasma were determined by ultracentrifugation as described previously [24]. Briefly, drug-spiked matrices (5 μM drug in plasma or brain homogenate) were centrifuged at 600,000 g for 5 h at 37 °C (plasma) or 5 °C (brain). Aliquots of the middle (water) layer were added to an equal volume of blank matrix and extracted with 5 volumes of acetonitrile containing internal standard. Aliquots of the original spiked matrix were mixed with an equal volume of blank matrix and 2 volumes of plasma ultrafiltrate (plasma) or phosphate-buffered saline (tissue) and extracted with 10 volumes of acetonitrile. Extracts were centrifuged and analyzed by LC-MS-MS. Fraction unbound was calculated from the ratio of concentration in the water layer to that in the original spiked matrix, corrected for dilution as described previously [24]. Based on previous results for basic drugs, in vivo free fraction in brain was assumed to be at least 3-fold lower than the in vitro free fraction in brain homogenate [34].
Data analysis
For calculation of mean concentrations, the earliest values below the MRC were substituted by MRC ÷ 2, as recommended elswhere [63]. Pharmacokinetic parameters were calculated from mean concentrations using PKSolver [64], employing non-compartmental analysis for extravascular administration. Curves in figures were fitted using Origin 8.5 (OriginLab, Northampton, MA) using 2-compartment models. Confidence intervals and two-tailed p values (unpaired t test) were calculated using Graphpad Quickcalcs [65]. One outlier was identified using Grubbs' test (p < 0.01) and excluded from the analysis; see Additional file 1.
Extraction of published data
Where data were not given in tables, values were extracted from graphs using Engauge Digitizer [66].
Funding
National Institute of Mental Health (grant MH063266 to WAC); National Institute of Drug Abuse (DA09045 to FIC); Department of Defense (National Defense Science and Engineering Graduate Fellowship to AVV). The funders had no role in study design, data collection and analysis, decision to publish, or preparation of the manuscript.
Authors' Affiliations
(1)
McLean Hospital, Belmont, MA & Department of Psychiatry, Harvard Medical School, Boston, USA
(2)
Pharmacokinetics and Drug Metabolism, Amgen Inc, Cambridge, USA
(3)
Organic and Medicinal Chemistry, Research Triangle Institute, Research Triangle Park, USA
Copyright
© Munro et al.; licensee BioMed Central Ltd. 2012
This article is published under license to BioMed Central Ltd. This is an Open Access article distributed under the terms of the Creative Commons Attribution License (http://creativecommons.org/licenses/by/2.0), which permits unrestricted use, distribution, and reproduction in any medium, provided the original work is properly cited.