Oral presentation

Open Access
A role for cGMP-dependent protein kinase II in AMPA receptor trafficking and synaptic plasticity
BMC Pharmacology
2009
9(Suppl 1):S44
Published: 11 August 2009
Keywords
Nitric Oxide
NMDA Receptor
AMPA Receptor
Guanylate Cyclase
Synaptic Strength
Background
Trafficking of AMPA receptors (AMPARs) underlies the activity-dependent modification of synaptic strength and is regulated by specific interactions of AMPAR subunits with other proteins. We have reported (Serulle et al., 2007) [1] that the AMPAR subunit GluR1 binds the cGMP-dependent kinase type II (cGKII) adjacent to the kinase catalytic site, and that this interaction is increased by cGMP. In this complex, cGKII phosphorylates GluR1 at serine 845 (S845) leading to an increase of GluR1 on the plasma membrane. In neurons, cGMP is produced by soluble guanylate cyclase (sGC), which is activated by nitric oxide (NO), which is produced by nNOS under the control of the NMDA receptor.
Results
To distinguish the mechanism, we have measured the rate of exogenous GluR1 endocytosis in cultured primary neurons, either the wild type or the S845A or S845D mutants (Figure
1
). We find that the S845A mutant (which cannot be phosphorylated) is endocytosed at rate of the wild type, while S845D (phosphomimetic) is endocytosed at a lower rate. Also, cGMP treatment, which elevates the endogenous GluR1 plasma membrane levels (Figure
2A
), reduced the rate of of GluR1 endocytosis (Figure
2B
).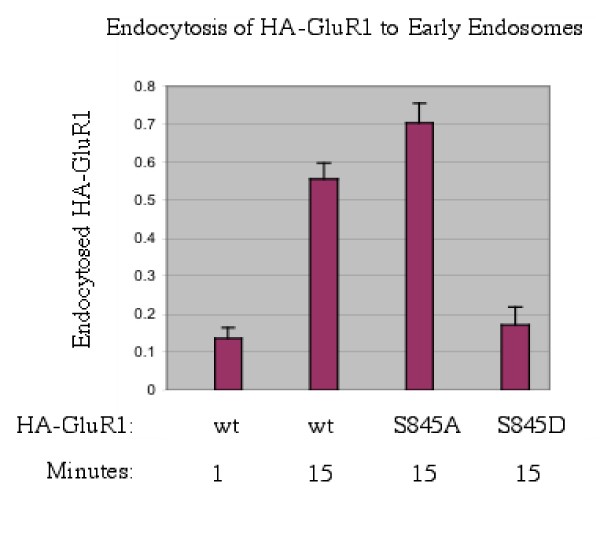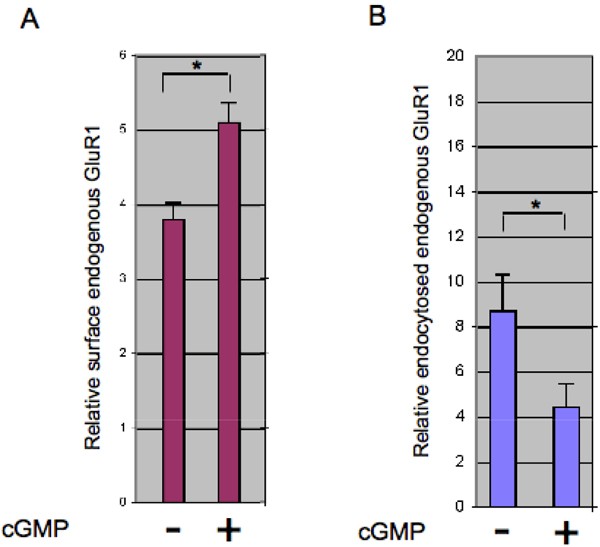 Conclusion
These data suggest that S845 phosphorylation increases the plasma membrane levels of GluR1 by reducing the rate of endocytosis.
Authors' Affiliations
(1)
Department of Biochemistry, NYU Langone Medical Center, New York, USA
(2)
Department of Pathology and Taub Institute, Columbia University, New York, USA
(3)
Department of Physiology, NYU Langone Medical Center, New York, USA
(4)
Department of Psychiatry, NYU Langone Medical Center, New York, USA
(5)
Department of Physiological Sciences, Viale A. Doria, 6, University of Catania, Catania, Italy
(6)
Department of Psychiatry, Mt Sinai School of Medicine, New York, USA
References
Serulle Y, Zhang S, Ninan I, Puzzo D, McCarthy M, Khatri L, Arancio O, Ziff EB: A GluR1-cGKII interaction regulates AMPA receptor trafficking. Neuron. 2007, 56: 670-688. 10.1016/j.neuron.2007.09.016.PubMed CentralView ArticlePubMedGoogle Scholar
Copyright
© Serulle et al; licensee BioMed Central Ltd. 2009
This article is published under license to BioMed Central Ltd.