Oral presentation

Open Access
Molecular steps in sGC activation
BMC Pharmacology
2007
7 (Suppl 1) :S27
Histidine
Conformational Change
Guanylate Cyclase
Activation Step
Histidine Kinase
In higher animals, soluble guanylate cyclase (sGC) functions as a selective sensor for NO. sGC belongs to a larger family of proteins termed the H-NOX family (
H
eme
N
itric oxide/
OX
ygen binding proteins) that includes prokaryotic counterparts from aerobic and anaerobic organisms [
1
–
5
]. A molecular basis for the ligand discrimination against O
2
in NO-regulated sGCs has been proposed [
4
,
5
] and further results support the general aspects of the hypothesis that involve a H-bonding residue in those H-NOXs that bind O
2
(Fig.
1
).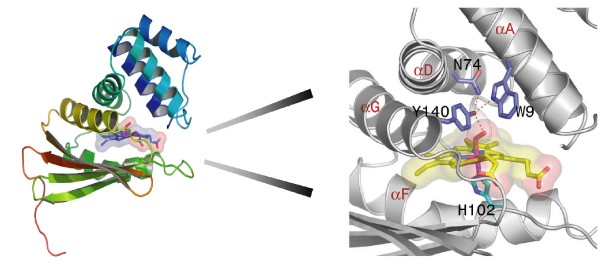 This hypothesis has been tested by genome searching and biochemical experiments and indeed, O
2
-regulated cyclases have been found in
C. elegans
[
6
] and other organisms. Most recent results suggest that some bacterial H-NOXs, such as that from
Shewanella oneidensis
, are serving as NO sensors. In
S. oneidensis
the NO-bound complex of the H-NOX selectively controls the activity of a cognate histidine kinase. The unligated H-NOX and CO complex have no effect on kinase activity (Fig.
2
).


In addition, further structural studies have delineated the conformational changes that take place upon activation of an NO sensor prokaryotic H-NOX domain. Relevance of these conformational changes to sGC is being investigated. A recnt report bearing on this has appeared [7].
NO binding to the heme remains as a key molecular activation step; however, it has become clear that activation and deactivation are regulated in a complex manner [8–10]. Evidence suggests regulation by an additional NO binding site and allosteric regulation by ATP and GTP.
Acknowledgements
We gratefully acknowledge financial support from the NIH (GM070671), and the Aldo DeBenedictis Fund.
(1)
Department of Chemistry, University of California, Berkeley, Berkeley, CA 94720, USA
(2)
Department of Molecular and Cell Biology, University of California, Berkeley, Berkeley, CA 94720, USA
(3)
Lawrence Berkeley National Laboratory, Berkeley, CA 94720, USA
© Boon et al; licensee BioMed Central Ltd. 2007
This article is published under license to BioMed Central Ltd.